How to Defend Your Perimeter from Today's Outsized Threats
White paper by Akamai, published on 3/10/2012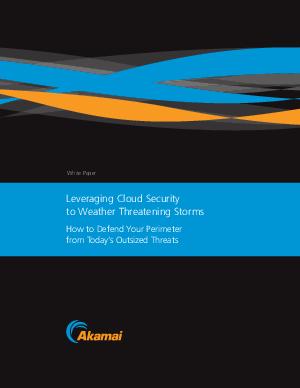 While threats to network and information security have existed since the dawn of the information age, the complexity and scale of attacks have exploded in recent years, presenting enterprises with daunting challenges as they struggle to defend an increasingly vulnerable perimeter. This paper assesses the current cyber threat environment and discusses the use of distributed cloud services as an effective means to protect against evolving, modern-day IT threats. It takes a close look at DDoS defense in particular, and provides action-able strategies for leveraging cloud security services to provide a robust layer of defense in an increasingly threatening Internet environment.
Page Count: 12 pages
Tags: Akamai, Outage, Cloud
Download White Paper
The white paper
"How to Defend Your Perimeter from Today's Outsized Threats"
can be obtained via the link below:
» Click here to open
Related White Papers
The Flexential Hybrid IT Study
by Flexential on 7/9/2018
Tags: HybridIT, Flexential, IT infrastructure, Colocation, Cloud, Virtual
A Better Way to Reach the Cloud - Connecting Should be Easy
by Stream Data Centers on 4/13/2018
Tags:
Cloud
Workloads, Data Centers & Cloud Strategy: Market & Technology Trends
by Iron Mountain on 4/13/2018
Tags: 451 Research, Iron Mountain, Cloud, Managed hosting
Get Up to 55% Better Hybrid Cloud Computing Performance with Improved Agility and Reliability
by Digital Realty on 2/22/2018
Tags: Digital Realty, Cloud
5 Reasons to Directly Connect Your Hybrid Cloud Solution
by CoreSite on 11/21/2017
Tags: Cloud, CoreSite, Colocation, Construction, Networking
How Reliable PDUs Lead to Reliable Data Centers
by Raritan on 7/26/2017
Tags: Data Center Design, Raritan, Outage, Construction
Using the Latest Variable Capacity Technology to Lower Energy Usage & Increase Reliability
by Seth Inyang, Data Aire on 6/1/2017
Tags: USA, Networking, Outage, Cooling, Construction, Hires
5 Ways the Latest Trend in Data Centers Reduces Costs and Increases Profitability
by HARTING on 3/24/2017
Tags: UPS, Data Center Design, Outage
Related Reports
Inside Data Center Optics
by Lisa Huff, Discerning Analytics, LLC on 2/10/2015
Tags: SDN, Amazon, APC, Emerson, Facebook, Google, Intel, Microsoft and more..
Pricing Data Center Services
by Forrester Research on 1/14/2014
Tags: Cloud, Storage
2013-2014 Census Report: Emerging Europe Middle East and Africa Data Center Market Trends
by DCD Intelligence on 1/1/2014
Tags: Europe, Africa, DCIM, Bahrain, Bulgaria, Czech Republic, Estonia, Hungary and more..
North American Data Center Market Trends 2013-2014 Report
by DCD Intelligence on 1/1/2014
Tags: North America, DCIM, USA, Canada, Financial, OnApp, Mississippi, Cloud and more..
2013-2014 Census Report : Western Europe Data Center Market Trends
by DCD Intelligence on 1/1/2014
Tags: Europe, Intel, DCIM, The Netherlands, Iceland, Ireland, Netherlands, France and more..
Cloud Clients and Virtual Clients
by 451 Research on 12/23/2013
Tags: kt, CenturyLink, Amazon, Cisco, Dell, IBM, Intel, Oracle and more..
Of the Cloud, for the Cloud: The State of the Art in IT Performance Management
by 451 Research on 12/20/2013
Tags: Equinix, Amazon, Akamai, Datapipe, Dell, Google, IBM, Microsoft and more..
Prefabricated Modular Datacenters: 2014 and Beyond
by 451 Research on 12/19/2013
Tags: DCIM, IBM, Microsoft, Dell, CPI, eBay, Storage, Emerson and more..