3 Steps to Better Cloud Performance
White paper by Digital Realty, published on 1/23/2019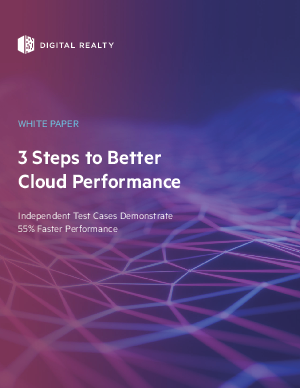 While they don′t hold a crystal ball, enterprise CTOs and CIOs are expected to predict and prepare for future connectivity needs with tremendous accuracy. This is beyond tricky. Serving many lines of business, departments and demands?all with their own variable needs?the role of accurately planning for needs has never been more complex.
These CTOs and CIOs are asking things like, how do you create a cost-effective cloud infrastructure to support multiple lines of business? Or, how do you keep unused or poorly managed cloud resources from breaking the budget?
After early experiments with cloud computing, IT teams quickly turned to multi-cloud solutions that promised to meet multiple business needs?only to discover bothersome challenges, most of them the result of entrusting mission-critical workloads to the public Internet. In this paper, Digital Realty partners with Krystallize Technologies to test, measure and articulate the value of a computing solution and cloud performance that connects private infrastructure over a dedicated connection accessing public cloud resources while bypassing the internet.
The solution powers additional critical workloads and delivers faster results, all while improving network security and leveraging dedicated connectivity to the cloud from private architecture.
Download the new white paper from Digital Realty that explores how to improve cloud performance through a multi-cloud platform, centralized governance, and on-demand networking.
Page Count: 13 pages
Tags: Digital Realty, Cloud, Networking
Download White Paper
The white paper
"3 Steps to Better Cloud Performance"
can be obtained via the link below:
» Click here to open
Related Reports
Inside Data Center Optics
by Lisa Huff, Discerning Analytics, LLC on 2/10/2015
Tags: SDN, Amazon, APC, Emerson, Facebook, Google, Intel, Microsoft and more..
Next-Generation Datacenter Management: From DCIM to DCSO
by 451 Research on 2/11/2014
Tags: DCIM, Amazon, eBay, Emerson, Facebook, IBM, Green, Virtual and more..
Pricing Data Center Services
by Forrester Research on 1/14/2014
Tags: Cloud, Storage
2013-2014 Census Report: Emerging Europe Middle East and Africa Data Center Market Trends
by DCD Intelligence on 1/1/2014
Tags: Europe, Africa, DCIM, Bahrain, Bulgaria, Czech Republic, Estonia, Hungary and more..
North American Data Center Market Trends 2013-2014 Report
by DCD Intelligence on 1/1/2014
Tags: North America, DCIM, USA, Canada, Financial, OnApp, Mexico, Cloud and more..
2013-2014 Census Report : Western Europe Data Center Market Trends
by DCD Intelligence on 1/1/2014
Tags: Europe, Intel, DCIM, The Netherlands, Iceland, Ireland, Netherlands, France and more..
Multi-Tenant Datacenter: North American Providers - 2013
by 451 Research on 12/23/2013
Tags: Canada, Texas, Ohio, Virginia, New Jersey, North Carolina, Washington, Colorado and more..
Cloud Clients and Virtual Clients
by 451 Research on 12/23/2013
Tags: kt, CenturyLink, Amazon, Cisco, Dell, IBM, Intel, XO and more..