Cloud Clients and Virtual Clients
Analyst report by 451 Research, published on 12/23/2013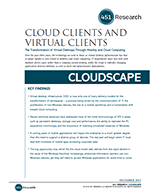 Over the past three years, the technology we used to know as virtual desktop infrastructure (VDI) has had to adapt rapidly to new trends in mobility and cloud computing. IT departments must now deal with multiple device types rather than a company-owned desktop, while the cloud is radically changing application delivery methods, as well as back-end infrastructure deployments. This report covers the latest developments in virtual desktop technology and looks ahead to discuss how the market should evolve over the next 12-18 months.
VDI is now only one of many delivery models for the transforming of workspaces ? a process driven by the consumerization of IT, the proliferation of non-Windows devices, the rise of a mobile workforce, and a fundamental shift toward cloud computing. This report aims to provide a deeper dive into the technology, vendors and use cases of desktop virtualization. It examines the two major new trends that are transforming VDI as we have known it: the need for enterprise IT to incorporate and manage mobile devices and their associated data; and the emerging opportunity of desktop-as-a-service.
Page Count: 32 pages
File Size: 0.30 MB
Tags: kt, CenturyLink, Amazon, Cisco, Dell, IBM, Intel, Microsoft, XO, EMC, NaviSite, Financial, UPS, Europe, London, Business Continuity, Oracle, Massachusetts, CDN, Cloud, AT&T, 451 Research, Disaster Recovery, Hewlett Packard, Equinix, Storage,
Download Analyst Report
The analyst report
"Cloud Clients and Virtual Clients"
can be purchased by clicking the price below:
» Download Free Executive Summary
» Buy, 1-3 Users: 3,750 USD
If you have questions about this report, or the purchase process, please
click here to contact us
.
Related White Papers
The Flexential Hybrid IT Study
by Flexential on 7/9/2018
Tags: Flexential, IT infrastructure, HybridIT, Colocation, Cloud, Virtual
A Better Way to Reach the Cloud - Connecting Should be Easy
by Stream Data Centers on 4/13/2018
Tags:
Cloud
The Mission Critical Data Center: Creating Complete Resiliency & Compliance
by Stream Data Centers on 4/13/2018
Tags:
Disaster Recovery
Workloads, Data Centers & Cloud Strategy: Market & Technology Trends
by Iron Mountain on 4/13/2018
Tags: 451 Research, Iron Mountain, Cloud, Managed hosting
The 10 Steps to Data Center Migration Success
by Iron Mountain on 4/13/2018
Tags: Iron Mountain, Colocation, Servers, Storage
Get Up to 55% Better Hybrid Cloud Computing Performance with Improved Agility and Reliability
by Digital Realty on 2/22/2018
Tags: Digital Realty, Cloud
5 Reasons to Directly Connect Your Hybrid Cloud Solution
by CoreSite on 11/21/2017
Tags: Cloud, CoreSite, Colocation, Construction, Networking
5 Ways the Latest Trend in Data Centers Reduces Costs and Increases Profitability
by HARTING on 3/24/2017
Tags: UPS, Data Center Design, Outage
Related Reports
Inside Data Center Optics
by Lisa Huff, Discerning Analytics, LLC on 2/10/2015
Tags: SDN, Amazon, APC, Emerson, Facebook, Google, Intel, Microsoft and more..
Next-Generation Datacenter Management: From DCIM to DCSO
by 451 Research on 2/11/2014
Tags: DCIM, Amazon, eBay, Emerson, Facebook, IBM, Green, Virtual and more..
Pricing Data Center Services
by Forrester Research on 1/14/2014
Tags: Cloud, Storage
Buyer Role Profile: Data Center Manager
by Forrester Research on 1/14/2014
Tags: UPS, Cooling
2013-2014 Census Report: Emerging Europe Middle East and Africa Data Center Market Trends
by DCD Intelligence on 1/1/2014
Tags: Europe, Africa, DCIM, Bahrain, Bulgaria, Czech Republic, Estonia, Hungary and more..
North American Data Center Market Trends 2013-2014 Report
by DCD Intelligence on 1/1/2014
Tags: North America, DCIM, USA, Canada, Financial, OnApp, Mexico, Cloud and more..
Purchasing Data Center Services - Procurement Research Report
by IBISWorld on 1/1/2014
Tags:
Financial
Colocation Facilities in the US: Market Research Report
by IBISWorld on 1/1/2014
Tags: USA, Colocation, California, Florida, Texas, Virginia, New York