WGBH Builds a Hybrid Cloud Active Archive Around Cloudian HyperStore
White paper by Cloudian, published on 7/17/2019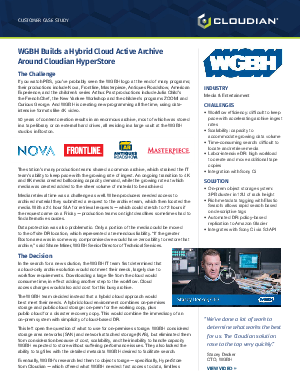 The ChallengeIf you watch PBS, you?ve probably seen the WGBH logo at the end of many programs ? Their productions include Nova, Frontline, Masterpiece, Antiques Roadshow, American Experience, and the children′s series Arthur. WGBH is creating new programming all the time, using data-intensive formats like 4K video.
Fifty years of content creation results in an enormous archive, most of which was previously stored in a tape library or on external hard drives.
The station′s many production teams shared a common archive, which strained the IT team′s ability to keep pace with the growing rate of ingest. An ongoing transition to 4K and 8K media created ballooning capacity demand, while the growing rate at which media was created added to the sheer volume of material to be archived.
The DecisionIn the search for a new solution, the WGBH IT team first determined that a cloud-only archive solution would not meet their needs, largely due to workflow requirements. Downloading a large file from the cloud would consume time, in effect adding another step to the workflow. Eventually, WGBH′s research led them to object storage ? specifically, HyperStore from Cloudian.
Page Count: 2 pages
Tags: Cloud, United Kingdom, USA, Storage
Download White Paper
The white paper
"WGBH Builds a Hybrid Cloud Active Archive Around Cloudian HyperStore"
can be obtained via the link below:
» Click here to open
Related Reports
Inside Data Center Optics
by Lisa Huff, Discerning Analytics, LLC on 2/10/2015
Tags: SDN, Amazon, Cisco, Emerson, Facebook, Google, Intel, Microsoft and more..
Next-Generation Datacenter Management: From DCIM to DCSO
by 451 Research on 2/11/2014
Tags: DCIM, Amazon, eBay, Emerson, Facebook, IBM, Green, Virtual and more..
Pricing Data Center Services
by Forrester Research on 1/14/2014
Tags: Cloud, Storage
2013-2014 Census Report: Emerging Europe Middle East and Africa Data Center Market Trends
by DCD Intelligence on 1/1/2014
Tags: Europe, Africa, DCIM, Bahrain, Bulgaria, Czech Republic, Estonia, Hungary and more..
North American Data Center Market Trends 2013-2014 Report
by DCD Intelligence on 1/1/2014
Tags: North America, DCIM, USA, Canada, Financial, OnApp, Cloud, Mexico and more..
Colocation Facilities in the US: Market Research Report
by IBISWorld on 1/1/2014
Tags: USA, Colocation, Florida, Texas, Virginia, New York, California
2013-2014 Census Report : Western Europe Data Center Market Trends
by DCD Intelligence on 1/1/2014
Tags: Europe, Intel, DCIM, The Netherlands, Iceland, Ireland, Netherlands, France and more..
Multi-Tenant Datacenter: North American Providers - 2013
by 451 Research on 12/23/2013
Tags: Texas, Canada, New Jersey, Virginia, Ohio, North Carolina, Georgia, Massachusetts and more..