The Flexential Hybrid IT Study
White paper by Flexential, published on 7/9/2018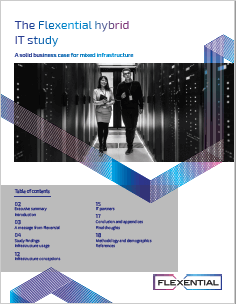 Hybrid IT is not a new concept, but in the age of digital transformation, its incentives for implementation should be clear. Workloads are larger and more demanding, and IT environments and infrastructure of all kinds are growing as a result. Some businesses believe they need to keep more workloads on-premise due to security and compliance constraints or latency and network capacity demands; others will place greater emphasis on the cloud for software as a service use cases. Colocation is preferred when support needs are high. There is justifiable logic for any configuration of hybrid IT, and every business' needs are different — it is critical to respect this dynamic as technology adoption continues to rapidly evolve.
Hybrid information technology is an "I choose this" story. A prevailing assumption among many professionals throughout the IT industry is that "hybrid" is a word to describe a transitional state — organizations are on a journey to the cloud, and eventually, 100% of their systems will live there. This hypothesis does not align with what the data tells us: organizations choose hybrid IT because it makes business sense. Hybrid IT workloads, reasons businesses use them, future hybrid plans and cost savings data are analyzed in The Flexential hybrid IT study: a solid business case for mixed infrastructure.
The two-phase study included an online survey of 212 IT decision makers from a variety of industries, as well as indepth, qualitative phone interviews with IT decision makers focused on defining hybrid IT, reasons to remain on premise versus cloud or colocation, common technology challenges creating the need for a hybrid strategy and future plans.
The survey identified several key trends and common viewpoints that came up repeatedly throughout the study:
Download our full whitepaper to fully understand where Hybrid IT is going in the future.
Tags: HybridIT, Flexential, IT infrastructure, Colocation, Cloud, Virtual
Download White Paper
The white paper
"The Flexential Hybrid IT Study"
can be obtained from an external site via the link below:
» Click here to proceed to the white paper
Related Reports
Inside Data Center Optics
by Lisa Huff, Discerning Analytics, LLC on 2/10/2015
Tags: SDN, Amazon, APC, Emerson, Facebook, Google, Intel, Microsoft and more..
Next-Generation Datacenter Management: From DCIM to DCSO
by 451 Research on 2/11/2014
Tags: DCIM, Amazon, eBay, Emerson, Facebook, IBM, Green, Virtual and more..
Pricing Data Center Services
by Forrester Research on 1/14/2014
Tags: Cloud, Storage
2013-2014 Census Report: Emerging Europe Middle East and Africa Data Center Market Trends
by DCD Intelligence on 1/1/2014
Tags: Europe, Africa, DCIM, Bahrain, Bulgaria, Czech Republic, Estonia, Hungary and more..
North American Data Center Market Trends 2013-2014 Report
by DCD Intelligence on 1/1/2014
Tags: North America, DCIM, USA, Canada, Financial, OnApp, Mexico, Cloud and more..
Colocation Facilities in the US: Market Research Report
by IBISWorld on 1/1/2014
Tags: USA, Colocation, Virginia, New York, California, Florida, Texas
2013-2014 Census Report : Western Europe Data Center Market Trends
by DCD Intelligence on 1/1/2014
Tags: Europe, Intel, DCIM, The Netherlands, Iceland, Ireland, Netherlands, France and more..
Multi-Tenant Datacenter: North American Providers - 2013
by 451 Research on 12/23/2013
Tags: Canada, Texas, Ohio, Virginia, New Jersey, North Carolina, Washington, Colorado and more..