Inside Data Center Optics
Analyst report by Lisa Huff, Discerning Analytics, LLC, published on 2/10/2015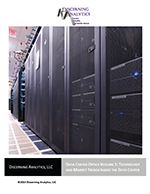 Traffic from data centers is now a major driving force behind the Internet; even the smallest of businesses now rely on data centers for revenue generation. And the largest data centers today are orders of magnitude larger than the supercomputing centers of a few years ago. Until quite recently, for most data center managers, optical data centers were nice to dream about, but not really essential. Perhaps they needed an optical link or two, at most. Today, the all-optical data center – perhaps even an all-single mode fiber (SMF) data center is something that even managers of medium-sized data centers should be considering.
All of these trends mean that optical networking systems being deployed into data centers have expanded considerably in the past few years. In this report, we identify and forecast just what these developments are. The markets and market movements discussed in this report include:
Next-generation Ethernet. We discuss how the transition from GigE to 10G, 40G and 100G will lead to significant new networking opportunities for firms with Ethernet products of all types and what the likely roadmap and timetables for optical Ethernet in the data center will look like.
InfiniBand (IB) and Fibre Channel. These standards are often declared dead, murdered by Ethernet. But they continue to find large addressable markets and have aggressive roadmaps promoted by their trade associations. This report will show how these standards will profitably fit into the optical data center that is expected to emerge over the next few years.
Novel networking architectures. The report will examine how SDN and virtualization will affect physical infrastructure deployment in the coming optical data center and which components and subsystems firms will be able to benefit from this.
This report will also include an assessment of the leading suppliers of optical components and modules and will provide guidance on how the product market strategies of these firms will evolve as the market for optical networking in data centers develops worldwide. The report correspondingly includes granular five-year forecasts of both optical transceivers and active optical cables (AOCs) with appropriate breakouts by data rate, standards, wavelength and form factor.
A subsequent report, Volume II of the series, will be published in early 2015. It will discuss the optical networking opportunities emerging in the access, metro and long-haul networks to support data center connectivity.
Content:
Executive Summary
E.1 Data Center Optics Adoption Trends
E.2 Data Center Network and Product Trends
E.3 Data Center Optics Market Dynamics
E.4 Recommendations for Data Center Optics
Chapter One: Introduction
1.1 Background to this report
1.1.1 Enterprise, Internet, co-location
1.1.2 Changing Architectures in Data Center Networks
1.1.3 Data Center Optics
1.2 Objective and scope of this report
1.3 Methodology of this report
1.4 Plan of this report
Chapter Two: Analysis of Data Center Networking Trends
2.1 Critical Server Trends
2.1.1 "Ubiquitous" High-Performance Computing
2.1.2 Virtualization
2.1.3 Changing Trends in Form Factors
2.1.4 Tradeoffs in Power Density/Cooling versus Bandwidth Density
2.2 Architectural Trends
2.2.1 Top-of-rack (ToR) and End-of-Row (EoR)
2.2.2 The TIA-942 Data Center
2.2.3 SDN in the Data Center and its Implications
2.3 Networking Standards and MSAs in the Data Center
2.3.1 Ethernet: All the way to 100G
2.3.2 InfiniBand
2.3.3 Fibre Channel
2.3.4 MSAs Evolving
2.4 Key Points of the Chapter
Chapter Three: Product Trends in the Optical Data Center
3.1 Fiber versus copper in the Data Center
3.1.1 Cost Analysis
3.1.2 Optical Roadmap
3.2 Optical Products Evolution
3.2.1 Gigabit to 400G Transceivers
3.2.2 LOMF versus SMF
3.2.3 Field-Terminated versus Pre-Terminated
3.2.4 Optical interconnects in the Data Center
3.3 Key points from this Chapter
Chapter Four: Data Center Optics Suppliers to Watch
4.1 Avago Technologies
4.2 Cisco
4.3 ColorChip
4.4 Finisar
4.5 Fujitsu Optical Components
4.6 JDSU
4.7 Oclaro
4.8 Reflex Photonics
4.9 Other suppliers of importance
Chapter Five: Data Center Optics Five-Year Forecasts
5.1 Data Center Optical Ethernet
5.2 Data Center Optical InfiniBand
5.3 Data Center Optical Fibre Channel
Acronyms and Abbreviations used in this report
About the Author
Page Count: 108 pages
File Size: 8.94 MB
Tags: SDN, Amazon, Cisco, Emerson, Facebook, Google, Intel, Microsoft, kt, Financial, APC, Servers, Virtual, Outage, EMC, VMware, Dell, Brocade, Hewlett Packard, IBM, Cooling, Juniper, Storage, Pacnet, Green, Supercomputer,