Of the Cloud, for the Cloud: The State of the Art in IT Performance Management
Analyst report by 451 Research, published on 12/20/2013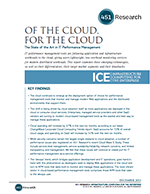 IT performance management tools are following application workloads to the cloud, giving users lightweight, low-overhead monitoring services for modern distributed workloads. The cloud continues to emerge as the deployment option of choice for performance management tools that monitor and manage today's Web applications and the distributed environments that support them.
This report examines the cloud as a delivery model for performance and availability management software. It considers the different approaches that performance and availability management vendors are taking, the various segments within this broad space, and which players are gaining the most traction so far. It is especially focused on the role that new startups and other privately held software vendors can play in this fast-moving market.
Page Count: 48 pages
File Size: 0.44 MB
Tags: Equinix, Amazon, CenturyLink, Datapipe, Dell, Google, IBM, Microsoft, Rackspace, VMware, SoftLayer, 451 Research, Savvis, kt, Akamai, Verizon, Terremark, Juniper, Oracle, Colocation, Stock, Hewlett Packard, Cloud, Modular, Green, Storage,
Download Analyst Report
The analyst report
"Of the Cloud, for the Cloud: The State of the Art in IT Performance Management"
can be purchased by clicking the price below:
» Download Free Executive Summary
» Buy, 1-3 Users: 3,750 USD
If you have questions about this report, or the purchase process, please
click here to contact us
.
Related White Papers
The Flexential Hybrid IT Study
by Flexential on 7/9/2018
Tags: IT infrastructure, HybridIT, Flexential, Virtual, Colocation, Cloud
Fortrust Data Centers
by Iron Mountain on 4/16/2018
Tags: Fortrust, Modular, Green, Cooling
A Better Way to Reach the Cloud - Connecting Should be Easy
by Stream Data Centers on 4/13/2018
Tags:
Cloud
Workloads, Data Centers & Cloud Strategy: Market & Technology Trends
by Iron Mountain on 4/13/2018
Tags: 451 Research, Iron Mountain, Cloud, Managed hosting
The 10 Steps to Data Center Migration Success
by Iron Mountain on 4/13/2018
Tags: Iron Mountain, Colocation, Servers, Storage
Get Up to 55% Better Hybrid Cloud Computing Performance with Improved Agility and Reliability
by Digital Realty on 2/22/2018
Tags: Digital Realty, Cloud
5 Reasons to Directly Connect Your Hybrid Cloud Solution
by CoreSite on 11/21/2017
Tags: Cloud, CoreSite, Colocation, Networking, Construction
One Easy Trick to Uncover a Fake Cloud Provider
by Arena Solutions on 3/15/2017
Tags:
Cloud
Related Reports
Inside Data Center Optics
by Lisa Huff, Discerning Analytics, LLC on 2/10/2015
Tags: SDN, Amazon, Cisco, Emerson, Facebook, Google, Intel, Microsoft and more..
Next-Generation Datacenter Management: From DCIM to DCSO
by 451 Research on 2/11/2014
Tags: DCIM, Amazon, eBay, Emerson, Facebook, Green, Virtual, IBM and more..
Pricing Data Center Services
by Forrester Research on 1/14/2014
Tags: Cloud, Storage
2013-2014 Census Report: Emerging Europe Middle East and Africa Data Center Market Trends
by DCD Intelligence on 1/1/2014
Tags: Europe, Africa, DCIM, Bahrain, Bulgaria, Czech Republic, Estonia, Poland and more..
North American Data Center Market Trends 2013-2014 Report
by DCD Intelligence on 1/1/2014
Tags: North America, USA, Canada, DCIM, Financial, OnApp, Cloud, Mississippi and more..
Colocation Facilities in the US: Market Research Report
by IBISWorld on 1/1/2014
Tags: USA, Colocation, Florida, Texas, Virginia, New York, California
2013-2014 Census Report : Western Europe Data Center Market Trends
by DCD Intelligence on 1/1/2014
Tags: Europe, Intel, DCIM, The Netherlands, Iceland, Ireland, Netherlands, France and more..
Multi-Tenant Datacenter: North American Providers - 2013
by 451 Research on 12/23/2013
Tags: Canada, Texas, Ohio, Virginia, New Jersey, North Carolina, Georgia, Massachusetts and more..