Prefabricated Modular Datacenters: 2014 and Beyond
Analyst report by 451 Research, published on 12/19/2013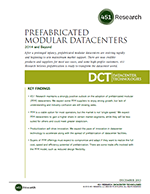 After a prolonged infancy, prefabricated modular (PFM) datacenters are evolving rapidly and beginning to win mainstream market support. There are now credible products and suppliers for most use cases, and some high-profile customers. 451 Research believes prefabrication is ready to transform the datacenter industry - and disrupt parts of it. This report explores the forces behind the spread of PFM datacenters and the reasons we expect PFM suppliers to see strong growth. The report contributes to the dialogue around prefabrication in the datacenter industry, and provides snapshots for selected vendors with the highest profile and committed resources to the PFM sector.
Page Count: 62 pages
File Size: 0.40 MB
Tags: DCIM, IBM, Microsoft, Dell, CPI, eBay, Storage, Emerson, Russia, Colocation, Networking, Digital Realty, Green, Cisco, Intel, Level 3, 451 Research, Colt Technology, Cooling, Hewlett Packard, UPS, Outage, Construction, Stock, Oracle, Modular,
Download Analyst Report
The analyst report
"Prefabricated Modular Datacenters: 2014 and Beyond"
can be purchased by clicking the price below:
» Download Free Executive Summary
» Buy, 1-3 Users: 3,750 USD
If you have questions about this report, or the purchase process, please
click here to contact us
.
Related White Papers
Why You Need to Modernize Disaster Recovery with DRaaS
by Gigaom on 8/20/2019
Tags: Virtual, Disaster Recovery, Cloud
WGBH Builds a Hybrid Cloud Active Archive Around Cloudian HyperStore
by Cloudian on 7/17/2019
Tags: Cloud, United Kingdom, USA, Storage
Accelerated business: The rise of next-generation connectivity
by Sprint on 7/9/2019
Tags: Sprint, kt, Intel
Winning the SaaS Game with Hyperconnected Colocation
by CoreSite on 5/12/2019
Tags: CoreSite, Colocation, Construction, Cloud
How Googles New Hybrid-Cloud Strategy Advancements Impact Stateful Workloads
by Gigaom on 4/23/2019
Tags: Google, Cloud, Modular, Storage
Data Center Evaluation Checklist Makes Comparison Easy
by Cyxtera on 1/23/2019
Tags: Servers, Colocation
3 Steps to Better Cloud Performance
by Digital Realty on 1/23/2019
Tags: Digital Realty, Cloud, Networking
Data Center Planning - Whos on First - Real Estate or Technology?
by Stream Data Centers on 1/23/2019
Tags: Stream Data Centers, Colocation
Related Reports
Inside Data Center Optics
by Lisa Huff, Discerning Analytics, LLC on 2/10/2015
Tags: SDN, Amazon, Cisco, Emerson, Facebook, Google, Intel, Microsoft and more..
Next-Generation Datacenter Management: From DCIM to DCSO
by 451 Research on 2/11/2014
Tags: DCIM, Amazon, eBay, Emerson, Facebook, IBM, Green, Virtual and more..
Pricing Data Center Services
by Forrester Research on 1/14/2014
Tags: Cloud, Storage
Buyer Role Profile: Data Center Manager
by Forrester Research on 1/14/2014
Tags: UPS, Cooling
2013-2014 Census Report: Emerging Europe Middle East and Africa Data Center Market Trends
by DCD Intelligence on 1/1/2014
Tags: Europe, Africa, DCIM, Bahrain, Bulgaria, Czech Republic, Estonia, Hungary and more..
North American Data Center Market Trends 2013-2014 Report
by DCD Intelligence on 1/1/2014
Tags: North America, DCIM, USA, Canada, Financial, OnApp, Cloud, Texas and more..
Colocation Facilities in the US: Market Research Report
by IBISWorld on 1/1/2014
Tags: USA, Colocation, Florida, Texas, Virginia, New York, California
2013-2014 Census Report : Western Europe Data Center Market Trends
by DCD Intelligence on 1/1/2014
Tags: Europe, Intel, DCIM, The Netherlands, Iceland, Ireland, Netherlands, France and more..