A Better Way to Reach the Cloud - Connecting Should be Easy
White paper by Stream Data Centers, published on 4/13/2018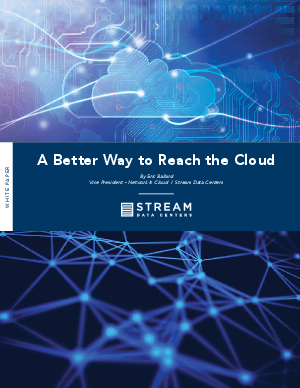 As enterprises adopt increasingly computing-intensive workloads, such as cloudbased applications and artificial intelligence, they are using more IT resources through the cloud.
The internet should be efficient. Connecting critical environments to it can be anything but easy. This white paper lays out why this process is needlessly difficult, and how a partnership of two leading companies can help.
Connecting to the cloud can be harder than it should be. A do-it-yourself approach entails enormous risk, expense, and distraction from running the organization that is supposed to be helping. Traditional network service providers can take months to establish connections to customers and typically demand long-term contracts containing few assurances about the services they provide.
This report examines the problems enterprises of all sizes can encounter in accessing cloud providers. It also details how Stream Data Centers can solve these issues through its partnership with Megaport, a leading provider of elastic interconnection and cloud services.
Download the new white paper from Stream Data Centers that explores a better way to reach the cloud, and ways to make connecting easier.
Page Count: 9 pages
Tags: Stream Data Centers, Cloud
Download White Paper
The white paper
"A Better Way to Reach the Cloud - Connecting Should be Easy"
can be obtained via the link below:
» Click here to open
Related Reports
Inside Data Center Optics
by Lisa Huff, Discerning Analytics, LLC on 2/10/2015
Tags: SDN, Amazon, APC, Emerson, Facebook, Google, Intel, Microsoft and more..
Pricing Data Center Services
by Forrester Research on 1/14/2014
Tags: Cloud, Storage
2013-2014 Census Report: Emerging Europe Middle East and Africa Data Center Market Trends
by DCD Intelligence on 1/1/2014
Tags: Europe, Africa, DCIM, Bahrain, Bulgaria, Czech Republic, Estonia, Hungary and more..
North American Data Center Market Trends 2013-2014 Report
by DCD Intelligence on 1/1/2014
Tags: North America, DCIM, USA, Canada, Financial, OnApp, Mexico, Cloud and more..
2013-2014 Census Report : Western Europe Data Center Market Trends
by DCD Intelligence on 1/1/2014
Tags: Europe, Intel, DCIM, The Netherlands, Iceland, Ireland, Netherlands, France and more..
Multi-Tenant Datacenter: North American Providers - 2013
by 451 Research on 12/23/2013
Tags: Canada, Texas, Ohio, Virginia, New Jersey, North Carolina, Washington, Colorado and more..
Cloud Clients and Virtual Clients
by 451 Research on 12/23/2013
Tags: kt, CenturyLink, Amazon, Cisco, Dell, IBM, Intel, XO and more..
Of the Cloud, for the Cloud: The State of the Art in IT Performance Management
by 451 Research on 12/20/2013
Tags: Equinix, Amazon, Akamai, Datapipe, Dell, Google, IBM, Microsoft and more..