Get Up to 55% Better Hybrid Cloud Computing Performance with Improved Agility and Reliability
White paper by Digital Realty, published on 2/22/2018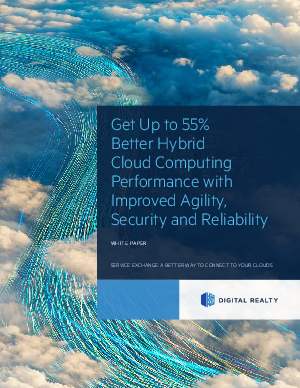 A new white paper from Digital Realty shows how to improve hybrid cloud computing performance and ramp up agility, security and reliability through its Service Exchange product, powered by Megaport.
Required to serve competing lines of business, enterprise CTOs and CIOs are challenged with finding one solution that works today and is flexible enough to deliver value well into the future. After early experiments with cloud computing, IT teams quickly turned to multi-cloud solutions that promised to meet multiple business needs?only to discover bothersome challenges, most of them the result of entrusting mission-critical workloads to the public Internet.
In this paper, Digital Realty partners with Krystallize Technologies to test, measure and articulate the value of a computing solution that connects a private cloud in a Digital Realty Data Center to a direct connection accessing public cloud services via Digital Realty Service Exchange, bypassing the public internet. The resulting solution was able to power more critical workloads and deliver faster results, all while improving network security and leveraging dedicated connectivity to the cloud from private architecture.
Download the report now to find out how leveraging the right network solution can simplify and speed up hybrid cloud computing for your business.
Page Count: 9 pages
Tags: Digital Realty, Cloud
Download White Paper
The white paper
"Get Up to 55% Better Hybrid Cloud Computing Performance with Improved Agility and Reliability"
can be obtained via the link below:
» Click here to open
Related Reports
Inside Data Center Optics
by Lisa Huff, Discerning Analytics, LLC on 2/10/2015
Tags: SDN, Amazon, APC, Emerson, Facebook, Google, Intel, Microsoft and more..
Next-Generation Datacenter Management: From DCIM to DCSO
by 451 Research on 2/11/2014
Tags: DCIM, Amazon, eBay, Emerson, Facebook, IBM, Green, Virtual and more..
Pricing Data Center Services
by Forrester Research on 1/14/2014
Tags: Cloud, Storage
2013-2014 Census Report: Emerging Europe Middle East and Africa Data Center Market Trends
by DCD Intelligence on 1/1/2014
Tags: Europe, Africa, DCIM, Bahrain, Bulgaria, Czech Republic, Estonia, Hungary and more..
North American Data Center Market Trends 2013-2014 Report
by DCD Intelligence on 1/1/2014
Tags: North America, DCIM, USA, Canada, Financial, OnApp, Mexico, Cloud and more..
2013-2014 Census Report : Western Europe Data Center Market Trends
by DCD Intelligence on 1/1/2014
Tags: Europe, Intel, DCIM, The Netherlands, Iceland, Ireland, Netherlands, France and more..
Multi-Tenant Datacenter: North American Providers - 2013
by 451 Research on 12/23/2013
Tags: Canada, Texas, Ohio, Virginia, New Jersey, North Carolina, Washington, Colorado and more..
Cloud Clients and Virtual Clients
by 451 Research on 12/23/2013
Tags: kt, CenturyLink, Amazon, Cisco, Dell, IBM, Intel, XO and more..