Winning Strategies for Telecom Customer Management
White paper by FICO, published on 5/11/2017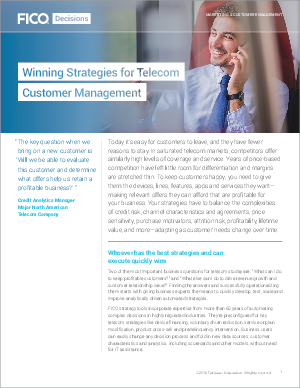 Today it′s easy for customers to leave, and they have fewer reasons to stay. In saturated telecom markets, competitors offer similarly high levels of coverage and service. Years of price-based competition have left little room for differentiation and margins are stretched thin.
To keep customers happy, you need to give them the devices, lines, features, apps and services they want-making relevant offers they can afford that are profitable for your business. Your strategies have to balance the complexities of credit risk, channel characteristics and agreements, price sensitivity, purchase motivators, attrition risk, profitability, lifetime value, and more-adapting as customer needs change over time.
Download this paper to find out more.
Page Count: 3 pages
Tags:
Download White Paper
The white paper
"Winning Strategies for Telecom Customer Management"
can be obtained via the link below:
» Click here to open
Related Reports
Inside Data Center Optics
by Lisa Huff, Discerning Analytics, LLC on 2/10/2015
Tags: SDN, Amazon, APC, Emerson, Facebook, Google, Intel, Microsoft and more..
Next-Generation Datacenter Management: From DCIM to DCSO
by 451 Research on 2/11/2014
Tags: DCIM, Amazon, eBay, Emerson, Facebook, Green, Virtual, IBM and more..
Pricing Data Center Services
by Forrester Research on 1/14/2014
Tags: Cloud, Storage
Buyer Role Profile: Data Center Manager
by Forrester Research on 1/14/2014
Tags: UPS, Cooling
2013-2014 Census Report: Emerging Europe Middle East and Africa Data Center Market Trends
by DCD Intelligence on 1/1/2014
Tags: Europe, Africa, DCIM, Bahrain, Bulgaria, Czech Republic, Estonia, Poland and more..
North American Data Center Market Trends 2013-2014 Report
by DCD Intelligence on 1/1/2014
Tags: North America, USA, Canada, DCIM, Financial, OnApp, Arizona, Cloud and more..
Purchasing Data Center Services - Procurement Research Report
by IBISWorld on 1/1/2014
Tags:
Financial
Colocation Facilities in the US: Market Research Report
by IBISWorld on 1/1/2014
Tags: USA, Colocation, Virginia, New York, California, Florida, Texas