The Best of Both Worlds: How to Effectively Leverage Social Media Relationships
White paper by GoToWebinar, published on 8/2/2011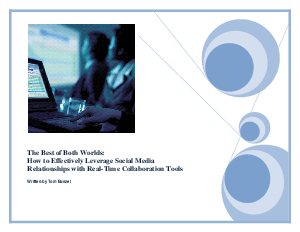 Terms like Facebook, Twitter, wikis and blogs are a recent addition to mainstream vocabulary. And now it seems like everyone is fluent in the language of social media – including your prospects and customers. This eBook explores how organizations can connect and nurture relationships with prospects and customers by effectively leveraging social media and real-time collaboration tools. Download the eBook to learn: * What the popular social media can do for your business * Best practices for building relationships with social media, from Twitter to YouTube and more * How to leverage the powerful synergy between social media and Webinars * And more...
Page Count: 28 pages
Tags: Facebook, Twitter, Green
Download White Paper
The white paper
"The Best of Both Worlds: How to Effectively Leverage Social Media Relationships"
can be obtained via the link below:
» Click here to open
Related White Papers
Fortrust Data Centers
by Iron Mountain on 4/16/2018
Tags: Fortrust, Modular, Green, Cooling
Colocation Selection by RagingWire
by RagingWire Data Centers on 12/2/2016
Tags: RagingWire, Colocation, Storage, Construction, Green, Cloud, Disaster Recovery
The Ultimate Guide to Windows Server 2016
by Microsoft on 11/22/2016
Tags: Modular, Cloud, Green, Microsoft
Evaluating Data Center and Colocation High Availability Service Delivery
by Robert McClary, FORTRUST on 7/25/2016
Tags: DCIM, Colorado, North America, Colocation, Denver, Disaster Recovery, UPS, Outage and more..
Whitepaper: Motivating Channel Partners in the Cloud Era
by Relayware on 12/24/2015
Tags: Green, Cloud
Powering the Green Data Center
by Digital Realty on 12/2/2015
Tags: Servers, UPS, Digital Realty, Green
Compliance Challenges and How to Solve Them
by FORTRUST on 10/29/2015
Tags: Colorado, Microsoft, Denver, Verizon, USA, Yahoo, Colocation, Green and more..
Windows Server 2003 End of Support: How will you secure your servers?
by Intel Security on 10/21/2015
Tags: Networking, Intel, Green
Related Reports
Inside Data Center Optics
by Lisa Huff, Discerning Analytics, LLC on 2/10/2015
Tags: SDN, Amazon, APC, Emerson, Facebook, Google, Intel, Microsoft and more..
Next-Generation Datacenter Management: From DCIM to DCSO
by 451 Research on 2/11/2014
Tags: DCIM, Amazon, eBay, Emerson, Facebook, IBM, Green, Virtual and more..
2013-2014 Census Report : Western Europe Data Center Market Trends
by DCD Intelligence on 1/1/2014
Tags: Europe, Intel, DCIM, The Netherlands, Iceland, Ireland, Netherlands, France and more..
Of the Cloud, for the Cloud: The State of the Art in IT Performance Management
by 451 Research on 12/20/2013
Tags: Equinix, Amazon, Akamai, Datapipe, Dell, Google, IBM, Microsoft and more..
Prefabricated Modular Datacenters: 2014 and Beyond
by 451 Research on 12/19/2013
Tags: DCIM, IBM, Microsoft, Dell, CPI, eBay, Storage, Emerson and more..
To Build or Not To Build - Part I: Should Service Providers Build Or Lease Their Datacenters?
by 451 Research on 12/18/2013
Tags: Equinix, Interxion, Telx, Digital Realty, Amazon, CenturyLink, Apple, CyrusOne and more..
Virtualization
by 451 Research on 12/16/2013
Tags: 451 Research, Florida, Missouri, IBM, Microsoft, Fort Lauderdale, Financial, Servers and more..
North American Multi-Tenant Datacenter Supply: Emerging Major Markets - 2013
by 451 Research on 12/13/2013
Tags: Texas, Canada, Ohio, Tennessee, Missouri, Kansas, Washington, Verizon and more..