Fortrust Data Centers
White paper by Iron Mountain, published on 4/16/2018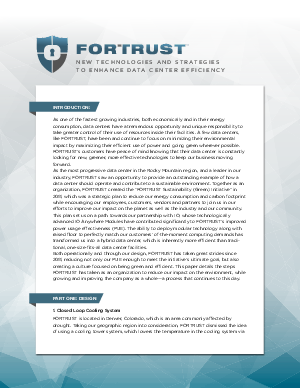 As one of the fastest growing industries, both economically and in their energy consumption, data centers have a tremendous opportunity and unique responsibility to take greater control of their use of resources inside their facilities. A few data centers, like FORTRUST, have been and continue to focus on minimizing their environmental impact by maximizing their efficient use of power and going green wherever possible. FORTRUST′s customers have peace of mind knowing that their data center is constantly looking for new, greener, more effective technologies to keep our business moving forward.
As the most progressive data center in the Rocky Mountain region, and a leader in our industry, FORTRUST saw an opportunity to provide an outstanding example of how a data center should operate and contribute to a sustainable environment. Together as an organization, FORTRUST created the ?FORTRUST Sustainability (Green) Initiative? in 2011, which was a strategic plan to reduce our energy consumption and carbon footprint while encouraging our employees, customers, vendors and partners to join us in our efforts to improve our impact on the planet as well as the industry and our community. This plan set us on a path towards our partnership with IO, whose technologically advanced IO Anywhere Modules have contributed significantly to FORTRUST′s improved power usage effectiveness (PUE). The ability to deploy modular technology along with raised floor to perfectly match our customers? of-the-moment computing demands has transformed us into a hybrid data center, which is inherently more efficient than tradi- tional, one-size-fits-all data center facilities.
Both operationally and through our design, FORTRUST has taken great strides since 2011, reducing not only our PUE enough to meet the initiative′s ultimate goal, but also creating a culture focused on being green and efficient. This paper details the steps FORTRUST has taken as an organization to reduce our impact on the environment, while growing and improving the company as a whole?a process that continues to this day.
Page Count: 4 pages
Tags: Fortrust, Modular, Green, Cooling
Download White Paper
The white paper
"Fortrust Data Centers"
can be obtained via the link below:
» Click here to open
Related White Papers
How Googles New Hybrid-Cloud Strategy Advancements Impact Stateful Workloads
by Gigaom on 4/23/2019
Tags: Google, Cloud, Modular, Storage
Top 10 Concerns of Data Center Managers in 2018
by Server Technology on 1/23/2019
Tags: Intel, Cloud, Construction, Modular, Storage, Virtual
Fortrust Data Centers
by Iron Mountain on 4/16/2018
Tags: Fortrust, Modular, Green, Cooling
Using the Latest Variable Capacity Technology to Lower Energy Usage & Increase Reliability
by Seth Inyang, Data Aire on 6/1/2017
Tags: USA, Networking, Outage, Cooling, Construction, Hires
CLOUD'S NEVER MORE THAN THREE STEPS AWAY
by Datapipe on 3/8/2017
Tags: Cooling, UPS, Datapipe, Cloud
Colocation Selection by RagingWire
by RagingWire Data Centers on 12/2/2016
Tags: RagingWire, Colocation, Storage, Construction, Green, Cloud, Disaster Recovery
The Ultimate Guide to Windows Server 2016
by Microsoft on 11/22/2016
Tags: Modular, Cloud, Green, Microsoft
The Evolved Data Center Model
by Aligned Data Centers on 11/16/2016
Tags: 451 Research, Servers, Colocation, Cooling
Related Reports
Inside Data Center Optics
by Lisa Huff, Discerning Analytics, LLC on 2/10/2015
Tags: SDN, Amazon, APC, Emerson, Facebook, Google, Intel, Microsoft and more..
Next-Generation Datacenter Management: From DCIM to DCSO
by 451 Research on 2/11/2014
Tags: DCIM, Amazon, eBay, Emerson, Facebook, IBM, Green, Virtual and more..
Buyer Role Profile: Data Center Manager
by Forrester Research on 1/14/2014
Tags: UPS, Cooling
2013-2014 Census Report: Emerging Europe Middle East and Africa Data Center Market Trends
by DCD Intelligence on 1/1/2014
Tags: Europe, Africa, DCIM, Bahrain, Bulgaria, Czech Republic, Estonia, Hungary and more..
North American Data Center Market Trends 2013-2014 Report
by DCD Intelligence on 1/1/2014
Tags: North America, DCIM, USA, Canada, Financial, OnApp, Mexico, Cloud and more..
2013-2014 Census Report : Western Europe Data Center Market Trends
by DCD Intelligence on 1/1/2014
Tags: Europe, Intel, DCIM, The Netherlands, Iceland, Ireland, Netherlands, France and more..
Multi-Tenant Datacenter: North American Providers - 2013
by 451 Research on 12/23/2013
Tags: Canada, Texas, Ohio, Virginia, New Jersey, North Carolina, Washington, Colorado and more..
Of the Cloud, for the Cloud: The State of the Art in IT Performance Management
by 451 Research on 12/20/2013
Tags: Equinix, Amazon, Akamai, Datapipe, Dell, Google, IBM, Microsoft and more..