Six Steps to SSL Certificate Lifecycle Management
White paper by Entrust Datacard, published on 11/29/2016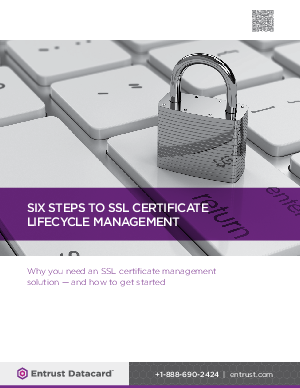 Upon issuance, all SSL digital certificates have a finite lifespan and are no longer recognized as valid upon expiration. Certificates may have varying periods of validity and are often set to expire anywhere between one and three years based on company policy and/or cost considerations.
This guide outlines the key elements of a certificate lifecycle management process and how to provide adequate tools and training to implement this process.
Download this paper now to find out more.
Page Count: 12 pages
Tags:
Download White Paper
The white paper
"Six Steps to SSL Certificate Lifecycle Management"
can be obtained via the link below:
» Click here to open
Related Reports
Inside Data Center Optics
by Lisa Huff, Discerning Analytics, LLC on 2/10/2015
Tags: SDN, Amazon, APC, Emerson, Facebook, Google, Intel, Microsoft and more..
Next-Generation Datacenter Management: From DCIM to DCSO
by 451 Research on 2/11/2014
Tags: DCIM, Amazon, eBay, Emerson, Facebook, Green, Virtual, IBM and more..
Pricing Data Center Services
by Forrester Research on 1/14/2014
Tags: Cloud, Storage
Buyer Role Profile: Data Center Manager
by Forrester Research on 1/14/2014
Tags: UPS, Cooling
2013-2014 Census Report: Emerging Europe Middle East and Africa Data Center Market Trends
by DCD Intelligence on 1/1/2014
Tags: Europe, Africa, DCIM, Bahrain, Bulgaria, Czech Republic, Estonia, Poland and more..
North American Data Center Market Trends 2013-2014 Report
by DCD Intelligence on 1/1/2014
Tags: North America, USA, Canada, DCIM, Financial, OnApp, Arizona, Cloud and more..
Purchasing Data Center Services - Procurement Research Report
by IBISWorld on 1/1/2014
Tags:
Financial
Colocation Facilities in the US: Market Research Report
by IBISWorld on 1/1/2014
Tags: USA, Colocation, Virginia, New York, California, Florida, Texas