5 Ways the Latest Trend in Data Centers Reduces Costs and Increases Profitability
White paper by HARTING, published on 3/24/2017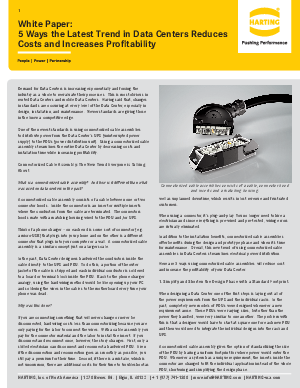 Demand for Data Centers is increasing exponentially and forcing the industry as a whole to reevaluate their processes. This is most obvious in rented Data Centers and mobile Data Centers. Having said that, changes in standards are occurring at every level of the Data Center, especially in design, installation, and maintenance. Newer standards are giving those in the know a competitive edge.
One of the newest standards is using connectorized cable assemblies to distribute power from the Data Center′s UPS (uninterrupted power supply) to the PDUs (power distribution unit). Using a connectorized cable assembly streamlines the entire Data Center by decreasing costs and installation time while increasing profitability.
Read to learn how connectorized cable assemblies:
- Simplify and shorten the design phase
- Improve the Safety and Reliability
- Reduce installation time and minimize downtime
Page Count: 2 pages
Tags: UPS, Data Center Design, Outage
Download White Paper
The white paper
"5 Ways the Latest Trend in Data Centers Reduces Costs and Increases Profitability"
can be obtained via the link below:
» Click here to open
Related Reports
Inside Data Center Optics
by Lisa Huff, Discerning Analytics, LLC on 2/10/2015
Tags: SDN, Amazon, APC, Emerson, Facebook, Google, Intel, Microsoft and more..
Next-Generation Datacenter Management: From DCIM to DCSO
by 451 Research on 2/11/2014
Tags: DCIM, Amazon, eBay, Emerson, Facebook, Green, Virtual, IBM and more..
Buyer Role Profile: Data Center Manager
by Forrester Research on 1/14/2014
Tags: UPS, Cooling
Cloud Clients and Virtual Clients
by 451 Research on 12/23/2013
Tags: kt, CenturyLink, Amazon, Cisco, Dell, IBM, Intel, EMC and more..
Prefabricated Modular Datacenters: 2014 and Beyond
by 451 Research on 12/19/2013
Tags: DCIM, Emerson, Microsoft, IBM, CPI, Dell, Storage, eBay and more..
To Build or Not To Build - Part I: Should Service Providers Build Or Lease Their Datacenters?
by 451 Research on 12/18/2013
Tags: Equinix, Interxion, Telx, Digital Realty, Amazon, CenturyLink, Apple, CyrusOne and more..
Beyond The Basics: A Guide to DCIM Suppliers
by 451 Research on 10/18/2013
Tags: DCIM, Cisco, Dell, Eaton, Emerson, Intel, Internap, Microsoft and more..
DCIM Software: Geographic Markets
by 451 Research on 10/7/2013
Tags: DCIM, Africa, Latin America, North America, Massachusetts, California, Europe, New York and more..