5 Reasons to Directly Connect Your Hybrid Cloud Solution
White paper by CoreSite, published on 11/21/2017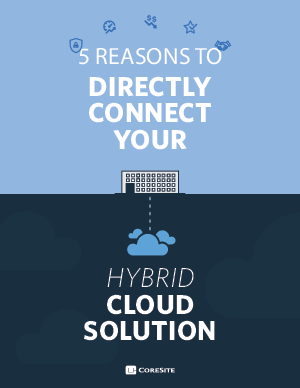 While the use of third-party cloud services is becoming the model of choice, business units and IT organizations still rely heavily on on-premises or colocation-hosted clouds. But a new approach is gaining popularity for the hybrid cloud solution.
The problem is that spreading core business services, application development and data across a hybrid cloud environment multiplies complexity ? for security, infrastructure reliability and resiliency, vendor management, application visibility ? and creates a new level of pressure and possibilities for digital business.
It also raises two fundamental questions for enterprises committed to hybrid IT:
- What′s the best way ? when it comes to security, performance and reliability ? to connect to our clouds?
- How do we control costs for data transfer and networking?Global spending on big data solutions via cloud subscriptions will grow almost 7.5 times faster than on-premises subscriptions between now and 2021. And by 2021, new data center buildouts by service providers are predicted to outpace enterprise build outs by 2.5 to 1.
In this e-book, we′ll introduce you to a solution many enterprises are adopting ? direct interconnect to cloud providers within a colocation facility ? and discuss the potential cost and performance advantages this option for streamlining hybrid IT connectivity can create.
Page Count: 12 pages
Tags: Cloud, CoreSite, Colocation, Construction, Networking
Download White Paper
The white paper
"5 Reasons to Directly Connect Your Hybrid Cloud Solution"
can be obtained via the link below:
» Click here to open
Related Reports
Inside Data Center Optics
by Lisa Huff, Discerning Analytics, LLC on 2/10/2015
Tags: SDN, Amazon, APC, Emerson, Facebook, Google, Intel, Microsoft and more..
Next-Generation Datacenter Management: From DCIM to DCSO
by 451 Research on 2/11/2014
Tags: DCIM, Amazon, eBay, Emerson, Facebook, Green, Virtual, IBM and more..
Pricing Data Center Services
by Forrester Research on 1/14/2014
Tags: Cloud, Storage
2013-2014 Census Report: Emerging Europe Middle East and Africa Data Center Market Trends
by DCD Intelligence on 1/1/2014
Tags: Europe, Africa, DCIM, Bahrain, Bulgaria, Czech Republic, Estonia, Poland and more..
North American Data Center Market Trends 2013-2014 Report
by DCD Intelligence on 1/1/2014
Tags: North America, USA, Canada, DCIM, Financial, OnApp, Arizona, Cloud and more..
Colocation Facilities in the US: Market Research Report
by IBISWorld on 1/1/2014
Tags: USA, Colocation, Virginia, New York, California, Florida, Texas
2013-2014 Census Report : Western Europe Data Center Market Trends
by DCD Intelligence on 1/1/2014
Tags: Europe, Intel, DCIM, The Netherlands, Iceland, Ireland, Netherlands, France and more..
Multi-Tenant Datacenter: North American Providers - 2013
by 451 Research on 12/23/2013
Tags: Canada, Texas, Virginia, Ohio, North Carolina, New Jersey, Georgia, New York and more..