The Mission Critical Data Center: Creating Complete Resiliency & Compliance
White paper by Stream Data Centers, published on 4/13/2018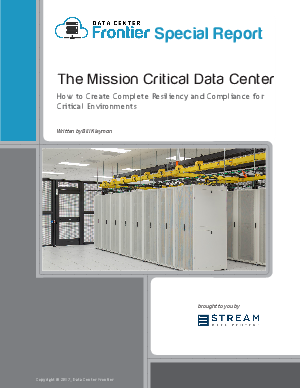 Today′s data centers have evolved to support a growing business, a dynamic workforce, and constantly changing business demands. IT and data center administrators are constantly tasked with creating a more resilient ecosystem capable of constant uptime and availability, especially for the mission critical data center.
But it′s not quite as simple as that. New demands dictate that we′re far beyond just creating disaster recovery plans. We′re being tasked with delivering complete resiliency for our most critical environments.
Fulfilling this mandate has typically involved the management of multiple, separate systems for disaster recovery, resiliency, uptime, security and more. However, as threats rise and systems grow more complex, there is an opportunity?perhaps even a requirement?to rethink the whole subject.
Increasingly, IT managers are starting to think about IT systems resiliency as the overall goal rather than focusing on discreet spheres of disaster recovery, backup, security and so forth. In this whitepaper, we′ll look at how organizations can create workable IT systems resiliency strategies, how they can support new types of critical environments, and how to improve overall data center operations and management.
Download the new Data Center Frontier Special Report to learn how to create complete resiliency and compliance in critical environments.
Page Count: 8 pages
Tags:
Disaster Recovery
Download White Paper
The white paper
"The Mission Critical Data Center: Creating Complete Resiliency & Compliance"
can be obtained via the link below:
» Click here to open
Related Reports
Multi-Tenant Datacenter: North American Providers - 2013
by 451 Research on 12/23/2013
Tags: Texas, Ohio, Virginia, New Jersey, North Carolina, Verizon, New York, Georgia and more..
Cloud Clients and Virtual Clients
by 451 Research on 12/23/2013
Tags: kt, CenturyLink, Amazon, Cisco, Dell, IBM, Intel, XO and more..
North American Multi-Tenant Datacenter Supply: Top 10 Markets - 2013
by 451 Research on 12/20/2013
Tags: Florida, Texas, Virginia, New York, Ohio, New Jersey, Tennessee, Missouri and more..
Prefabricated Modular Datacenters: 2014 and Beyond
by 451 Research on 12/19/2013
Tags: DCIM, eBay, Microsoft, Emerson, CPI, IBM, Storage, Dell and more..
To Build or Not To Build - Part I: Should Service Providers Build Or Lease Their Datacenters?
by 451 Research on 12/18/2013
Tags: Equinix, Interxion, Telx, Digital Realty, Amazon, CenturyLink, Apple, CyrusOne and more..
North American Multi-Tenant Datacenter Supply: Emerging Major Markets - 2013
by 451 Research on 12/13/2013
Tags: Texas, Canada, Ohio, Tennessee, Missouri, Kansas, Washington, Indiana and more..
Corporate Cloud Demand Stays Strong
by 451 Research on 11/15/2013
Tags: Verizon, Amazon, Google, Microsoft, VMware, Rackspace, Wisconsin, Intel and more..
Cloud Management and Automation
by 451 Research on 11/6/2013
Tags: Amazon, Apple, Cisco, Google, IBM, Microsoft, Oracle, Rackspace and more..