Six Important Considerations When Choosing A Colocation Provider
White paper by CenturyLink Technology Solutions, published on 2/25/2014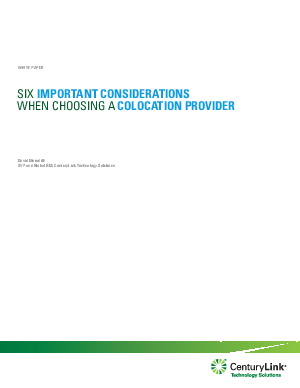 Colocation services may seem like nothing more than a commodity. But, with applications supporting your key customer interactions and business functions, all aspects of your IT infrastructure need to be scrutinized - including your colocation provider. From physical location to network integration, what appear to be minor differences between providers can have a profound impact on the overall performance of your business.
Whether it's an improved customer experience, uptime for critical applications or better alignment of IT with your business priorities, careful consideration of your colocation services provider will impact your ability to achieve these goals. And, there are questions you should be asking to ensure an optimal deployment:
Does the colocation provider have a wide breadth of capabilities?
How close is the colocation provider's data center?
What are the connectivity options between your site and the colocation data center?
How does the colocation provider ensure security and compliance?
What kind of support resources are available?
What are the power and cooling capabilities of the center that will house your equipment?
Read "Six Important Considerations When Choosing a Colocation Provider" now, and make sure you are taking everything into consideration as you go down this path for your business.
Page Count: 5 pages
Tags: Colocation, CenturyLink, Cooling, Networking
Download White Paper
The white paper
"Six Important Considerations When Choosing A Colocation Provider"
can be obtained via the link below:
» Click here to open
Related White Papers
Winning the SaaS Game with Hyperconnected Colocation
by CoreSite on 5/12/2019
Tags: CoreSite, Colocation, Construction, Cloud
Data Center Evaluation Checklist Makes Comparison Easy
by Cyxtera on 1/23/2019
Tags: Servers, Colocation
3 Steps to Better Cloud Performance
by Digital Realty on 1/23/2019
Tags: Digital Realty, Cloud, Networking
Data Center Planning - Whos on First - Real Estate or Technology?
by Stream Data Centers on 1/23/2019
Tags: Stream Data Centers, Colocation
Data Center Colocation Provider Cheat Sheet
by Panduit on 11/28/2018
Tags: Cloud, Colocation
Optimize Colocation Infrastructure Strategies
by Panduit on 8/28/2018
Tags:
Colocation
The Flexential Hybrid IT Study
by Flexential on 7/9/2018
Tags: IT infrastructure, HybridIT, Flexential, Virtual, Colocation, Cloud
Fortrust Data Centers
by Iron Mountain on 4/16/2018
Tags: Fortrust, Modular, Green, Cooling
Related Reports
Inside Data Center Optics
by Lisa Huff, Discerning Analytics, LLC on 2/10/2015
Tags: SDN, Amazon, Cisco, Emerson, Facebook, Google, Intel, Microsoft and more..
Next-Generation Datacenter Management: From DCIM to DCSO
by 451 Research on 2/11/2014
Tags: DCIM, Amazon, eBay, Emerson, Facebook, IBM, Virtual, Green and more..
Buyer Role Profile: Data Center Manager
by Forrester Research on 1/14/2014
Tags: UPS, Cooling
2013-2014 Census Report: Emerging Europe Middle East and Africa Data Center Market Trends
by DCD Intelligence on 1/1/2014
Tags: Europe, Africa, DCIM, Bahrain, Bulgaria, Czech Republic, Estonia, Poland and more..
North American Data Center Market Trends 2013-2014 Report
by DCD Intelligence on 1/1/2014
Tags: North America, USA, Canada, DCIM, Financial, OnApp, Arizona, Cloud and more..
Colocation Facilities in the US: Market Research Report
by IBISWorld on 1/1/2014
Tags: USA, Colocation, Virginia, New York, California, Florida, Texas
2013-2014 Census Report : Western Europe Data Center Market Trends
by DCD Intelligence on 1/1/2014
Tags: Europe, Intel, DCIM, The Netherlands, Iceland, Ireland, Netherlands, France and more..
Multi-Tenant Datacenter: North American Providers - 2013
by 451 Research on 12/23/2013
Tags: Texas, Canada, Virginia, Ohio, New Jersey, North Carolina, Massachusetts, Washington and more..