Web and Application Hosting - Summer 2013
Analyst report by 451 Research, published on 9/9/2013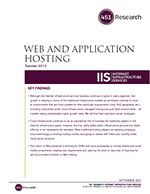 The Web and application infrastructure hosting market (which 451 Research formerly referred to as 'mass-market hosting') is transitioning to slower growth as workloads move from traditional shared and dedicated hosting environments into new execution venues in the cloud and managed infrastructure spaces. New customer growth is coming in new areas of the market, driven by new types of products. The ability to drive user volume has been joined by the ability to drive additional per-user revenue through new services and bundling strategies as key measures of success.
This report analyzes key market conditions and trends influencing the Web and application hosting sector worldwide. It evaluates the current market from a strategic perspective and identifies current and long-term trends and opportunities, including specific examples of how hosting providers are reacting to these trends. It delivers market data through 2016, profiles major players by share of revenue and strategy, and identifies innovative technologies and businesses that have the potential for disruptive impact.
Page Count: 49 pages
File Size: 0.33 MB
Tags: California, Canada, Florida, Verizon, India, Japan, Brazil, France, Belgium, Italy, Australia, CenturyLink, Germany, Virginia, 451 Research, The Netherlands, Georgia, Colorado, Illinois, Massachusetts, Texas, Michigan, Washington, Paris, Los Angeles, Amsterdam,
Download Analyst Report
The analyst report
"Web and Application Hosting - Summer 2013"
can be purchased by clicking the price below:
» Download Free Executive Summary
» Buy, 1-3 Users: 3,750 USD
If you have questions about this report, or the purchase process, please
click here to contact us
.
Related Reports
Inside Data Center Optics
by Lisa Huff, Discerning Analytics, LLC on 2/10/2015
Tags: SDN, Amazon, APC, Emerson, Facebook, Google, Intel, Microsoft and more..
Next-Generation Datacenter Management: From DCIM to DCSO
by 451 Research on 2/11/2014
Tags: DCIM, Amazon, eBay, Emerson, Facebook, IBM, Green, Virtual and more..
Pricing Data Center Services
by Forrester Research on 1/14/2014
Tags: Cloud, Storage
2013-2014 Census Report: Emerging Europe Middle East and Africa Data Center Market Trends
by DCD Intelligence on 1/1/2014
Tags: Europe, Africa, DCIM, Bahrain, Bulgaria, Czech Republic, Estonia, Hungary and more..
North American Data Center Market Trends 2013-2014 Report
by DCD Intelligence on 1/1/2014
Tags: North America, DCIM, USA, Canada, Financial, OnApp, Mexico, Cloud and more..
Colocation Facilities in the US: Market Research Report
by IBISWorld on 1/1/2014
Tags: USA, Colocation, Virginia, New York, California, Florida, Texas
2013-2014 Census Report : Western Europe Data Center Market Trends
by DCD Intelligence on 1/1/2014
Tags: Europe, Intel, DCIM, The Netherlands, Iceland, Ireland, Netherlands, France and more..
Multi-Tenant Datacenter: North American Providers - 2013
by 451 Research on 12/23/2013
Tags: Canada, Texas, Ohio, Virginia, New Jersey, North Carolina, Washington, Colorado and more..