The OpenStack Tipping Point
Analyst report by 451 Research, published on 4/15/2013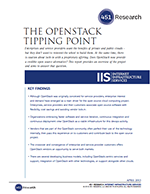 Since its emergence nearly three years ago, OpenStack has garnered a great deal of attention. This open source cloud computing project has seen increased momentum as more developers, vendors and end users have collaboratively built out OpenStack's capabilities. Today, the project has evolved into a top priority for many IT professionals and suppliers. At 451 Research, we are fielding a growing number of OpenStack-related inquiries - with a particular focus on enterprise and service-provider opportunities.
This report serves as a guide to define and describe OpenStack, and offer perspective on how it is viewed within the overall market. It covers a variety of vendors and service providers that are leveraging OpenStack both internally and for commercial offerings. It also includes customer-survey feedback and case studies, as well as some perspectives on OpenStack market sizing. The report considers key players, technologies, use cases and trends to form a coherent picture of the OpenStack ecosystem, what's driving it and where the project and market are headed.
Page Count: 68 pages
File Size: 0.65 MB
Tags: China, Japan, Texas, Massachusetts, California, 451 Research, Amazon, Cisco, Dell, Google, VMware, IBM, Austin, Boston, London, Canada, SoftLayer, Intel, Malaysia, North America, Beijing, Shanghai, Tokyo, Singapore, Hong Kong, San Francisco,
Download Analyst Report
The analyst report
"The OpenStack Tipping Point"
can be purchased by clicking the price below:
» Download Free Executive Summary
» Buy, 1-3 Users: 3,750 USD
If you have questions about this report, or the purchase process, please
click here to contact us
.
Related White Papers
The Flexential Hybrid IT Study
by Flexential on 7/9/2018
Tags: Flexential, IT infrastructure, HybridIT, Colocation, Cloud, Virtual
Fortrust Data Centers
by Iron Mountain on 4/16/2018
Tags: Fortrust, Modular, Green, Cooling
A Better Way to Reach the Cloud - Connecting Should be Easy
by Stream Data Centers on 4/13/2018
Tags:
Cloud
Workloads, Data Centers & Cloud Strategy: Market & Technology Trends
by Iron Mountain on 4/13/2018
Tags: 451 Research, Iron Mountain, Cloud, Managed hosting
The 10 Steps to Data Center Migration Success
by Iron Mountain on 4/13/2018
Tags: Iron Mountain, Colocation, Servers, Storage
Get Up to 55% Better Hybrid Cloud Computing Performance with Improved Agility and Reliability
by Digital Realty on 2/22/2018
Tags: Digital Realty, Cloud
5 Reasons to Directly Connect Your Hybrid Cloud Solution
by CoreSite on 11/21/2017
Tags: Cloud, CoreSite, Colocation, Construction, Networking
How Reliable PDUs Lead to Reliable Data Centers
by Raritan on 7/26/2017
Tags: Data Center Design, Raritan, Outage, Construction
Related Reports
Inside Data Center Optics
by Lisa Huff, Discerning Analytics, LLC on 2/10/2015
Tags: SDN, Amazon, APC, Emerson, Facebook, Google, Intel, Microsoft and more..
Next-Generation Datacenter Management: From DCIM to DCSO
by 451 Research on 2/11/2014
Tags: DCIM, Amazon, eBay, Emerson, Facebook, IBM, Green, Virtual and more..
Pricing Data Center Services
by Forrester Research on 1/14/2014
Tags: Cloud, Storage
Buyer Role Profile: Data Center Manager
by Forrester Research on 1/14/2014
Tags: UPS, Cooling
2013-2014 Census Report: Emerging Europe Middle East and Africa Data Center Market Trends
by DCD Intelligence on 1/1/2014
Tags: Europe, Africa, DCIM, Bahrain, Bulgaria, Czech Republic, Estonia, Hungary and more..
North American Data Center Market Trends 2013-2014 Report
by DCD Intelligence on 1/1/2014
Tags: North America, DCIM, USA, Canada, Financial, OnApp, Colombia, Cloud and more..
Colocation Facilities in the US: Market Research Report
by IBISWorld on 1/1/2014
Tags: USA, Colocation, New York, California, Florida, Texas, Virginia
2013-2014 Census Report : Western Europe Data Center Market Trends
by DCD Intelligence on 1/1/2014
Tags: Europe, Intel, DCIM, The Netherlands, Iceland, Ireland, Netherlands, France and more..