MTDC Providers - Global
Analyst report by 451 Research, published on 11/16/2012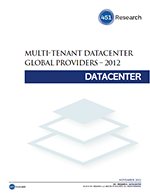 The Multi-Tenant Datacenter Global Providers Report 2012 examines the overall size, scope and growth of the global multi-tenant datacenter (MTDC) market. The report segments the global market into the following regions: North America; Europe, the Middle East and Africa (EMEA); Asia-Pacific and Latin America. It spotlights various prominent global datacenter providers and provides a market outlook for each. In this report, 'multi-tenant datacenters' are considered multi-customer colocation and wholesale facilities. Single-user enterprise datacenters and single-tenant datacenters are specifically excluded from this analysis.
Page Count: 100 pages
File Size: 5.69 MB
Tags: Germany, India, Brazil, Italy, Canada, Spain, Florida, Australia, Texas, China, Switzerland, The Netherlands, Washington, France, Belgium, Denmark, Portugal, Japan, Ohio, Mexico, Argentina, Verizon, Finland, Indonesia, South Africa, Czech Republic,
Download Analyst Report
The analyst report
"MTDC Providers - Global"
can be purchased by clicking the price below:
» Download Free Executive Summary
» Buy, 1-3 Users: 3,750 USD
If you have questions about this report, or the purchase process, please
click here to contact us
.
Related White Papers
Why You Need to Modernize Disaster Recovery with DRaaS
by Gigaom on 8/20/2019
Tags: Virtual, Disaster Recovery, Cloud
WGBH Builds a Hybrid Cloud Active Archive Around Cloudian HyperStore
by Cloudian on 7/17/2019
Tags: Cloud, United Kingdom, USA, Storage
Accelerated business: The rise of next-generation connectivity
by Sprint on 7/9/2019
Tags: Sprint, kt, Intel
Winning the SaaS Game with Hyperconnected Colocation
by CoreSite on 5/12/2019
Tags: CoreSite, Colocation, Construction, Cloud
How Googles New Hybrid-Cloud Strategy Advancements Impact Stateful Workloads
by Gigaom on 4/23/2019
Tags: Google, Cloud, Modular, Storage
Data Center Evaluation Checklist Makes Comparison Easy
by Cyxtera on 1/23/2019
Tags: Servers, Colocation
3 Steps to Better Cloud Performance
by Digital Realty on 1/23/2019
Tags: Digital Realty, Cloud, Networking
Data Center Planning - Whos on First - Real Estate or Technology?
by Stream Data Centers on 1/23/2019
Tags:
Colocation
Related Reports
Inside Data Center Optics
by Lisa Huff, Discerning Analytics, LLC on 2/10/2015
Tags: SDN, Amazon, Cisco, Emerson, Facebook, Google, Intel, Microsoft and more..
Next-Generation Datacenter Management: From DCIM to DCSO
by 451 Research on 2/11/2014
Tags: DCIM, Amazon, eBay, Emerson, Facebook, IBM, Virtual, Green and more..
Buyer Role Profile: Data Center Manager
by Forrester Research on 1/14/2014
Tags: UPS, Cooling
2013-2014 Census Report: Emerging Europe Middle East and Africa Data Center Market Trends
by DCD Intelligence on 1/1/2014
Tags: Europe, Africa, DCIM, Bahrain, Bulgaria, Czech Republic, Estonia, Poland and more..
North American Data Center Market Trends 2013-2014 Report
by DCD Intelligence on 1/1/2014
Tags: North America, USA, Canada, DCIM, Financial, OnApp, Cloud, Arizona and more..
Purchasing Data Center Services - Procurement Research Report
by IBISWorld on 1/1/2014
Tags:
Financial
Colocation Facilities in the US: Market Research Report
by IBISWorld on 1/1/2014
Tags: USA, Colocation, Florida, Texas, Virginia, New York, California
2013-2014 Census Report : Western Europe Data Center Market Trends
by DCD Intelligence on 1/1/2014
Tags: Europe, Intel, DCIM, The Netherlands, Iceland, Ireland, Netherlands, France and more..