Highly Energy-Efficient Datacenters in Practice
Analyst report by 451 Research, published on 8/23/2013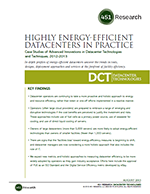 Improving energy and resource efficiency is not a new issue for the datacenter industry, but it has traditionally taken a back seat to other considerations, such as maintaining uptime. However, over the last five to ten years, certain external factors -- including rising fuel prices, carbon-emission reduction efforts and the credit crisis -- have begun to push efficiency up the priority list.
This rise in energy-use awareness has helped drive the development of an increasing range of eco-efficient datacenter strategies and technologies by traditional datacenter suppliers, specialist startups and consultants. There is a wealth of information now available on how to make changes to datacenter design and operation in order to reduce energy and resource usage. This report is intended to look beyond theoretical solutions and supplier marketing, and instead concentrate on real-life projects and results.
Page Count: 44 pages
File Size: 0.32 MB
Tags: Sweden, Ireland, California, Australia, Arizona, DCIM, Massachusetts, Interxion, Microsoft, Yahoo, NTT, EMC, Stock, Boston, Phoenix, Singapore, Digital Realty, Colorado, Apple, Wyoming, Utah, Iceland, Emerson, Netherlands, Spain, Portugal,
Download Analyst Report
The analyst report
"Highly Energy-Efficient Datacenters in Practice"
can be purchased by clicking the price below:
» Download Free Executive Summary
» Buy, 1-3 Users: 3,750 USD
If you have questions about this report, or the purchase process, please
click here to contact us
.
Related White Papers
Why You Need to Modernize Disaster Recovery with DRaaS
by Gigaom on 8/20/2019
Tags: Virtual, Disaster Recovery, Cloud
WGBH Builds a Hybrid Cloud Active Archive Around Cloudian HyperStore
by Cloudian on 7/17/2019
Tags: Cloud, Storage, USA, United Kingdom
Accelerated business: The rise of next-generation connectivity
by Sprint on 7/9/2019
Tags: Sprint, kt, Intel
Winning the SaaS Game with Hyperconnected Colocation
by CoreSite on 5/12/2019
Tags: CoreSite, Colocation, Cloud, Construction
How Googles New Hybrid-Cloud Strategy Advancements Impact Stateful Workloads
by Gigaom on 4/23/2019
Tags: Google, Cloud, Modular, Storage
Hyper-Converged Infrastructure & Public Cloud Environments
by Gigaom on 4/10/2019
Tags: Virtual, Cloud
Data Center Evaluation Checklist Makes Comparison Easy
by Cyxtera on 1/23/2019
Tags: Servers, Colocation
3 Steps to Better Cloud Performance
by Digital Realty on 1/23/2019
Tags: Digital Realty, Cloud, Networking
Related Reports
Inside Data Center Optics
by Lisa Huff, Discerning Analytics, LLC on 2/10/2015
Tags: SDN, Amazon, APC, Emerson, Facebook, Google, Intel, Microsoft and more..
Next-Generation Datacenter Management: From DCIM to DCSO
by 451 Research on 2/11/2014
Tags: DCIM, Amazon, eBay, Emerson, Facebook, Green, IBM, Virtual and more..
Pricing Data Center Services
by Forrester Research on 1/14/2014
Tags: Cloud, Storage
Buyer Role Profile: Data Center Manager
by Forrester Research on 1/14/2014
Tags: UPS, Cooling
2013-2014 Census Report: Emerging Europe Middle East and Africa Data Center Market Trends
by DCD Intelligence on 1/1/2014
Tags: Europe, Africa, DCIM, Bahrain, Bulgaria, Czech Republic, Estonia, Hungary and more..
North American Data Center Market Trends 2013-2014 Report
by DCD Intelligence on 1/1/2014
Tags: North America, DCIM, USA, Canada, Financial, OnApp, Texas, Cloud and more..
Colocation Facilities in the US: Market Research Report
by IBISWorld on 1/1/2014
Tags: USA, Colocation, California, Florida, Texas, Virginia, New York
2013-2014 Census Report : Western Europe Data Center Market Trends
by DCD Intelligence on 1/1/2014
Tags: Europe, Intel, DCIM, The Netherlands, Iceland, Ireland, Netherlands, France and more..