North American Multi-Tenant Datacenter Supply: Emerging Major Markets - 2013
Analyst report by 451 Research, published on 12/13/2013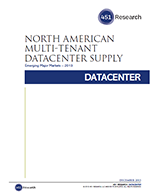 This report provides an overview of 10 emerging major datacenter markets in North America, along with actionable metrics around geographies and specific providers. The report includes current market-size, supply, demand and utilization metrics, as well as updates to market-specific analyses.
Page Count: 78 pages
File Size: 3.75 MB
Tags: Texas, Canada, Ohio, Tennessee, Verizon, Kansas, North America, Washington, Indiana, Pennsylvania, Virginia, Colorado, Missouri, Illinois, Nevada, Kentucky, Maryland, Michigan, Minnesota, New Jersey, Oregon, North Carolina, Arizona, Georgia, Utah, New York,
Download Analyst Report
The analyst report
"North American Multi-Tenant Datacenter Supply: Emerging Major Markets - 2013"
can be purchased by clicking the price below:
» Download Free Executive Summary
» Buy, 1-3 Users: 3,750 USD
If you have questions about this report, or the purchase process, please
click here to contact us
.
Related White Papers
How Reliable PDUs Lead to Reliable Data Centers
by Raritan on 7/26/2017
Tags: Data Center Design, Raritan, Outage, Construction
One Easy Trick to Uncover a Fake Cloud Provider
by Arena Solutions on 3/15/2017
Tags:
Cloud
CLOUD'S NEVER MORE THAN THREE STEPS AWAY
by Datapipe on 3/8/2017
Tags: Cooling, UPS, Datapipe, Cloud
DDoS Protection Strategies: Choosing the Right Model
by F5 Networks Inc on 1/31/2017
Tags: Outage, Cloud
IO Data Center Solution
by IO on 12/2/2016
Tags: IO Data, Colocation, Cloud, Storage
Colocation Selection by RagingWire
by RagingWire Data Centers on 12/2/2016
Tags: RagingWire, Colocation, Disaster Recovery, Construction, Green, Storage, Cloud
The Ultimate Guide to Windows Server 2016
by Microsoft on 11/22/2016
Tags: Modular, Cloud, Green, Microsoft
The Evolved Data Center Model
by Aligned Data Centers on 11/16/2016
Tags: 451 Research, Servers, Colocation, Cooling
Related Reports
Inside Data Center Optics
by Lisa Huff, Discerning Analytics, LLC on 2/10/2015
Tags: SDN, Amazon, APC, Emerson, Facebook, Google, Intel, Microsoft and more..
Next-Generation Datacenter Management: From DCIM to DCSO
by 451 Research on 2/11/2014
Tags: DCIM, Amazon, eBay, Emerson, Facebook, Green, Virtual, IBM and more..
Pricing Data Center Services
by Forrester Research on 1/14/2014
Tags: Cloud, Storage
2013-2014 Census Report: Emerging Europe Middle East and Africa Data Center Market Trends
by DCD Intelligence on 1/1/2014
Tags: Europe, Africa, DCIM, Bahrain, Bulgaria, Czech Republic, Estonia, Poland and more..
North American Data Center Market Trends 2013-2014 Report
by DCD Intelligence on 1/1/2014
Tags: North America, USA, Canada, DCIM, Financial, OnApp, Arizona, Cloud and more..
Purchasing Data Center Services - Procurement Research Report
by IBISWorld on 1/1/2014
Tags:
Financial
Colocation Facilities in the US: Market Research Report
by IBISWorld on 1/1/2014
Tags: USA, Colocation, California, Florida, Texas, Virginia, New York
2013-2014 Census Report : Western Europe Data Center Market Trends
by DCD Intelligence on 1/1/2014
Tags: Europe, Intel, DCIM, The Netherlands, Iceland, Ireland, Netherlands, France and more..