Geographic and Risk Mitigation Factors for Data Center Site Selection
White paper by Robert D. McClary, FORTRUST, published on 2/28/2014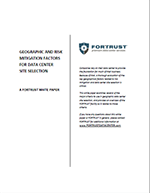 Companies rely on their data center to provide the foundation for much of their business. Because of that, a thorough evaluation of the key geographical factors related to risk mitigation and data center site selection is critical.
This white paper examines several of the major criteria to use in geographic data center site selection, and provides an overview of the FORTRUST facility as it relates to those criteria.
Page Count: 12 pages
File Size: 1.10 MB
Tags: Colorado, OnApp, Wyoming, New Jersey, Arkansas, Mexico, India, Green, Louisiana, Montana, Alabama, Missouri, Mississippi, Washington, Idaho, Jersey, Denver, Utah, Pennsylvania, Oregon, New Mexico, Verizon, XO, Zayo, California, Virginia,
Related White Papers
How Reliable PDUs Lead to Reliable Data Centers
by Raritan on 7/26/2017
Tags: Data Center Design, Raritan, Outage, Construction
5 Ways the Latest Trend in Data Centers Reduces Costs and Increases Profitability
by HARTING on 3/24/2017
Tags: UPS, Data Center Design, Outage
CLOUD'S NEVER MORE THAN THREE STEPS AWAY
by Datapipe on 3/8/2017
Tags: Cooling, UPS, Datapipe, Cloud
IO Data Center Solution
by IO on 12/2/2016
Tags: IO Data, Colocation, Cloud, Storage
Colocation Selection by RagingWire
by RagingWire Data Centers on 12/2/2016
Tags: RagingWire, Colocation, Disaster Recovery, Construction, Green, Storage, Cloud
The Ultimate Guide to Windows Server 2016
by Microsoft on 11/22/2016
Tags: Modular, Cloud, Green, Microsoft
The Evolved Data Center Model
by Aligned Data Centers on 11/16/2016
Tags: 451 Research, Servers, Colocation, Cooling
Data Center Physical Realities in a Software-Defined and Virtualized World
by Raritan on 11/9/2016
Tags: Raritan, Cloud, Virtual
Related Reports
Inside Data Center Optics
by Lisa Huff, Discerning Analytics, LLC on 2/10/2015
Tags: SDN, Amazon, APC, Emerson, Facebook, Google, Intel, Microsoft and more..
Next-Generation Datacenter Management: From DCIM to DCSO
by 451 Research on 2/11/2014
Tags: DCIM, Amazon, eBay, Emerson, Facebook, Green, Virtual, IBM and more..
Buyer Role Profile: Data Center Manager
by Forrester Research on 1/14/2014
Tags: UPS, Cooling
2013-2014 Census Report: Emerging Europe Middle East and Africa Data Center Market Trends
by DCD Intelligence on 1/1/2014
Tags: Europe, Africa, DCIM, Bahrain, Bulgaria, Czech Republic, Estonia, Poland and more..
North American Data Center Market Trends 2013-2014 Report
by DCD Intelligence on 1/1/2014
Tags: North America, USA, Canada, DCIM, Financial, OnApp, Arizona, Cloud and more..
Colocation Facilities in the US: Market Research Report
by IBISWorld on 1/1/2014
Tags: USA, Colocation, California, Florida, Texas, Virginia, New York
2013-2014 Census Report : Western Europe Data Center Market Trends
by DCD Intelligence on 1/1/2014
Tags: Europe, Intel, DCIM, The Netherlands, Iceland, Ireland, Netherlands, France and more..
Multi-Tenant Datacenter: North American Providers - 2013
by 451 Research on 12/23/2013
Tags: Texas, Ohio, Virginia, North Carolina, New Jersey, Verizon, New York, Massachusetts and more..