The Software-Defined Telco: How CDN and SDN Will Reprogram the Telecom World
Analyst report by 451 Research, published on 12/21/2012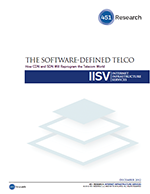 This report provides an overview of the ways in which software is changing the nature of the telecom business, starting with software-defined networking at the level of the network element, on up to the application layer, where video has become the dominant (and troublesome) form of traffic. In essence, this is already the era of the 'software-defined telco.'
The question for telecom companies, from AT&T to Tata, is how to take advantage of this transformation in the midst of competition from hosting and cloud services players like Google and Amazon. This report takes a look at how content delivery networks are evolving into cloud delivery networks. Our belief is that the underlying platforms for the CDN market could provide a base for performance and programmability from which the 'software-defined telco' can survive in the as-a-service era without relying too heavily on the promise of networking-focused innovations such as OpenFlow and SDN.
Page Count: 24 pages
File Size: 0.52 MB
Tags: Georgia, SDN, Denmark, Amazon, AT&T, California, Google, CenturyLink, Cisco, Microsoft, Rackspace, SoftLayer, OnApp, Verizon, XO, NTT, IDG, Comcast, KDDI, NaviSite, HOSTING, Pacnet, San Francisco, Canada, kt, Germany,
Download Analyst Report
The analyst report
"The Software-Defined Telco: How CDN and SDN Will Reprogram the Telecom World"
can be purchased by clicking the price below:
» Download Free Executive Summary
» Buy, 1-3 Users: 3,750 USD
If you have questions about this report, or the purchase process, please
click here to contact us
.
Related White Papers
How Reliable PDUs Lead to Reliable Data Centers
by Raritan on 7/26/2017
Tags: Data Center Design, Raritan, Outage, Construction
Colocation Selection by RagingWire
by RagingWire Data Centers on 12/2/2016
Tags: RagingWire, Colocation, Disaster Recovery, Construction, Green, Storage, Cloud
The Ultimate Guide to Windows Server 2016
by Microsoft on 11/22/2016
Tags: Modular, Cloud, Green, Microsoft
The Evolved Data Center Model
by Aligned Data Centers on 11/16/2016
Tags: 451 Research, Servers, Colocation, Cooling
QTS - Information, Security & Compliance Forum
by QTS on 11/4/2016
Tags: QTS, USA
7 DDoS Myths and Realities
by A10 Networks on 8/30/2016
Tags: IDG, Outage
A New Era for Data Center Networking
by VMware on 8/10/2016
Tags: Networking, VMware, Virtual, Cloud
Evaluating Data Center and Colocation High Availability Service Delivery
by Robert McClary, FORTRUST on 7/25/2016
Tags: DCIM, North America, Colocation, Denver, Colorado, Disaster Recovery, UPS, Construction and more..
Related Reports
Inside Data Center Optics
by Lisa Huff, Discerning Analytics, LLC on 2/10/2015
Tags: SDN, Amazon, Cisco, Emerson, Facebook, Google, Intel, Microsoft and more..
Next-Generation Datacenter Management: From DCIM to DCSO
by 451 Research on 2/11/2014
Tags: DCIM, Amazon, eBay, Emerson, Facebook, IBM, Virtual, Green and more..
2013-2014 Census Report: Emerging Europe Middle East and Africa Data Center Market Trends
by DCD Intelligence on 1/1/2014
Tags: Europe, Africa, DCIM, Bahrain, Bulgaria, Czech Republic, Estonia, Poland and more..
North American Data Center Market Trends 2013-2014 Report
by DCD Intelligence on 1/1/2014
Tags: North America, USA, Canada, DCIM, Financial, OnApp, Mississippi, Cloud and more..
Colocation Facilities in the US: Market Research Report
by IBISWorld on 1/1/2014
Tags: USA, Colocation, California, Florida, Texas, Virginia, New York
2013-2014 Census Report : Western Europe Data Center Market Trends
by DCD Intelligence on 1/1/2014
Tags: Europe, Intel, DCIM, The Netherlands, Iceland, Ireland, Netherlands, France and more..
Multi-Tenant Datacenter: North American Providers - 2013
by 451 Research on 12/23/2013
Tags: Texas, Ohio, Virginia, North Carolina, New Jersey, New York, Verizon, Massachusetts and more..
Cloud Clients and Virtual Clients
by 451 Research on 12/23/2013
Tags: kt, CenturyLink, Amazon, Cisco, Dell, IBM, Intel, Oracle and more..